Choose what to watch, all links lead to the official pages
3900 live TV channels from 150 countries
Programm and Serie TV, Fiction, Music, Movie

"

ITALIANS

"
Free Online TV Streaming
MioTv is the simplest way to watch LIVE TV channels around the world. With any device connected to the Internet.
Not many apps are needed. No memory occupied which slows down the phone.
Online TV streaming
Link to over 3900 official TV channels of the worls
ALL IN ONE
You pay attention:
in the "AppStores" there are many imitations of MioTV
Function "Remote Control"
With the "REMOTE CONTROL" function everything is quick and easy.
You can enter your favorite channels and use them with any device.
Custom remote control
Instant access to your channels.
View all available channels
Automatic insertion of new arrivals.
Language already set
Password protection (your choice)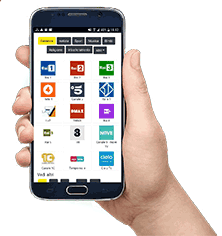 Thank you for your support!
Since 2018, Max Media has been offering the MioTV service free to everyone and we want it to stay that way. Your donation will help us improve MioTV, providing an even better viewing experience.