You don't need many apps anymore, with MioTV you choose and watch live for FREE right away without downloading anything.
All links lead to the official pages.
3900 live TV channels from 150 countries
Easy Streaming TV  free Online 
MioTv is the simplest way to watch LIVE TV channels around the world. With any device connected to the Internet.
Not many apps are needed. No memory occupied which slows down the phone.
Free streaming TV Online
Link to over 3900 official TV channels of the worls
ALL IN ONE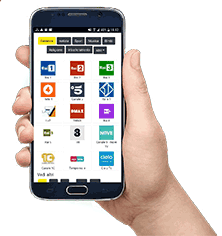 You pay attention:
in the "AppStores" there are many imitations of MioTV
Create your own personalized remote control.
Add your favorite channels and access them on all your devices.
Remove advertisements.

With this feature, you can remove advertisements from MioTVonline.


Coming soon!

A new feature you'll love is coming soon." "MioTV will be increasingly YOURS".


Thank you for your support!
Since 2018, Max Media has been offering the MioTV service free to everyone and we want it to stay that way. Your donation will help us improve MioTV, providing an even better viewing experience.
F1 season 2023
Calendar, schedules, live TV
Moto GP season 2023
Calendar, schedules, live TV
For Italian TV, Movie, Program, Series, Fiction, in the guide Italy