is always with you
Book of Live TV Channels
In the Tv Book you have over 3700 links to official Tv Channels of the world
Free Online TV Streaming
Channels watched
+ 11 Millions
---
Free Online TV Streaming
MioTv is the easiest system to watch LIVE TV channels worldwide. With any device connected to the internet.
Not many apps are needed. No memory occupied that slows down your phone.
Stream Tv online
Connection to over 3700 official TV channels
ALL IN ONE
Functions
How to do

1) Set the country
2) Choose the channel
3) Start live TV
Categories

The main categories:
All General, News, Sport, Music, Children, Religious and others
Terms of use

The use of this service is free and unlimited.
Connection active 24h. for 365 days
You can use MioTv with:
Smartphone, Computer, Tablet, Smart Tv, Play Station
New Function "Remote Control"
With the function: "REMOTE CONTROL" everything is quick and easy.
You can insert your favorite channels and use them with any device.
Custom remote control
Instant access to your channels.
See all available channels
Automatic insertion of new arrivals.
Language already set
Password protection (your choice)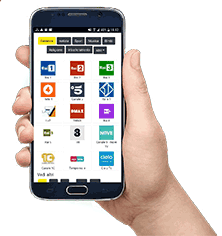 Watch internet TV
Free Online TV Streaming
Today you can watch the TV of the world's channels, directly from smartphones, computers, tablets, smart TVs and even from the Play Station, you only need a simple internet connection.
MioTV is your REMOTE CONTROL for watching TV Online
In the TV book "MioTv" you will find a list of the main TV channels in the world. Thanks to this you get direct links to official televisions.

By selecting the desired TV channel, you exit "MIOTV" and access the chosen broadcaster, which is solely responsible for the contents displayed and for its perfect functioning. MioTV does not have any TV channels or proprietary content.

For Italian user: see site Italy ► www.miotv.it
Watch TV Online
Streaming television is undoubtedly the TV of the moment and more and more will be in the future.
Most of the world's broadcasters have equipped themselves to offer their programming to online users.
The transmissions are the same that are transmitted by the traditional system, which are put into view at the same times.
What channels can you watch?
The channels are the same, that is, the same television stations that you normally find on your home TV.
What do you need for watch Tv?
The things you need are basically two:
A device and internet connection.
Devices
You can watch TV with any device that has an internet connection, such as:
Smartphones, computers, PCs, tablets, notebooks, Smart TV and even from the play station.
Internet Connection
All internet connections are fine to watch your favorite TV channels, even the simple connection of your smartphone is suitable. For information, know that the home internet line is normally faster and more performing. So you will have a better connection.